Reading Time : 4 minutes
The basic goal of having a professional presence on social media is to increase your visibility among prospective clients. Your goal should be to establish trust and a professional persona, not to accumulate "friends" and "likes." You should strive to develop and maintain a social media presence that is diversified, reliable and steady, demonstrating to your public that you are an individual who is knowledgeable, trustworthy, and competent, as well as friendly, caring, likable, and sincere. Does that sound like a tall order? It does not have to be. It doesn't have to take much time each week, but your activity on the various platforms should be controlled and coordinated. You do not have to be a professional writer, nor an accomplished photographer, but you should strive for personable, believable posts.
The Giants of Social Media
The big three social media platforms are Facebook, Instagram and Twitter. However, as a business person and real estate professional, you might also seriously consider establishing a LinkedIn account, and use it to your advantage as part of your social media strategy. Beyond that, expanding to other online venues depends on personal choice, available time, and specific interests. Some real estate agents find YouTube to be highly effective, while others migrate in the direction of TikTok videos or more graphic social media sites like Snapchat, Pinterest, Tumblr or Flickr.
Facebook
With more than 2.7 billion active users worldwide, Facebook is the anchor of your social media presence. Although it may not be the younger generation's favorite, your real estate clientele is likely to be among its users. Consider establishing a Facebook page or group for your business-related posts, rather than trying to integrate your personal account with your career. The account you establish for your business should not be the place for personal photos, opinions, or controversial topics. You should also be wary of using your home address or sharing family information publicly.
Instagram
As the name indicates, Instagram is a quick and effective way to share photos and short video content with your followers. With 1.2 billion monthly active users, it is another advantageous way to reach potential clients and boost your following. Another advantage is that, because of its affiliation with Facebook, each Instagram post can be shared on Facebook, thereby increasing its positive effect.
Twitter
Tweets are short (they have been increased to 280 characters from their former 140) and short-lived, and the platform is not the most productive. But it is instantaneous. It doesn't take much time to get the hang of it, and it can gain you a following fairly quickly as a knowledgeable real estate professional when used correctly. It's an ideal way to share information -- such as a daily change in the interest rate, an interesting new listing, or a price reduction -- with a select number of people.
LinkedIn
This business-oriented social media platform doesn't even rank in the top ten, but its influence among professionals cannot be underestimated. It has also gained importance during the pandemic as the platform for B2B interaction. Be sure your personal profile is complete and that you use a professional photo for your listing. Regular posts and interaction with other professionals is beneficial.
YouTube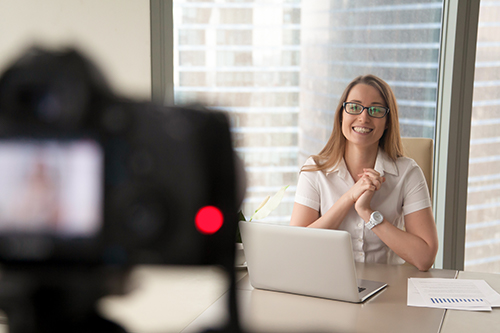 This unusual phenomenon deserves a mention but using it for professional business development demands a different kind of approach. First, it is not an interactive platform, and it is viewed more as a "search engine" (the second-largest one, at that) rather than a social media platform. If you are not used to speaking in front of a camera, do not attempt to showcase a property by walking through the rooms with a smart phone while talking about its features.
Develop a Posting Calendar
Develop a social media schedule. Aim for two or three social media posts each week on various platforms in the beginning and share links between platforms when appropriate. Send a tweet to point followers to a Facebook post, for instance, or share an Instagram photo automatically to your Facebook page. Write a short article for LinkedIn and post a short sentence and a link on Facebook. Use Twitter to tell your followers that a specific home you listed just closed, that the price on a specific property was lowered, or that interest rates are slated to rise next week, according to the latest financial news.
Encourage interaction, always respond to compliments or comments, and thank your followers for their support. Introduce a new buyer to the community by posting a photo of them at their new front door (with their permission, of course). Lend your support to a community event or congratulate a fellow real estate agent on his or her latest achievement. Share a humorous story or post a cute "puppy" picture just for the fun of it. Just make sure your posts are believable, accurate and in good taste. And have fun with social media. You'll reap the reward through increased business.
Love,
Kartik