Lesson Videos
Your ADHI Schools account gives you access to amazing streaming versions of all chapter lessons. For our online students, it's as close as we can get you to the actual classroom experience. For classroom students, it's convenient because if you miss a lesson or want to review something you can do it 24/7.

Each lesson is broken up into chapters, so you can watch them all at once or break them up into multiple study sessions.

The videos are interactive. Your instructor will challenge you to think critically about the course material before moving on.

Online lessons and workshops are taught by ADHI Schools' founder Kartik Subramaniam.

Not sure yet? Click here to create a guest account and see what it's like.
A unique way to connect with the course material
The real estate exam can be a difficult test and some of our students may want to review certain chapters over and over again to make sure they really understand the concept being taught. Our included archived videos allow you to do this without missing a beat. Best of all - it's on your time.
Preview a class for free before registering
A key aspect of our real estate program is that we allow anyone to come sit in on a class as a guest of ours before registering. We understand that you have choices and we want to make sure you are 100% comfortable before your register. Click here to have a guest pass sent to your email. Just show this to the instructor on your phone and have a real estate lecture. On us.
Will it work on my phone? Yep!
The entire ADHI Schools program is designed to work perfectly on your iOS and Android devices. It's 2019, would you expect anything else? You can watch videos and take quizzes on your phone. On a bad date? Just start watching a real estate video. That should clear the room in a hurry! :)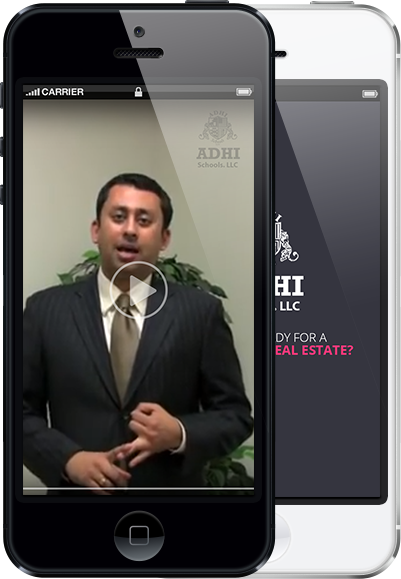 Get your Guest pass
CLICK HERE