Reading Time : 3 minutes
Downsizing your home comes with a wide range of different benefits. Sometimes your kids have left the home to go off to college and you just don't need as much space any longer. Other times, you realize that you never needed as much space in the first place. Regardless, it can be a great way to free yourself of some clutter and also save some money on your monthly bills at the exact same time.
When you do search for a smaller home, there are a few key things you should look for. Chief among these is how much square footage your new home will have. You'll also want to examine the potential for storage spaces depending on the amount of items you're bringing with you. But more than anything, you want to consider WHY you want to downsize. Are you doing this for yourself, or are you doing this because you think you need to? Regardless, once you make the decision and you begin to embark on this journey, there are a few key tips you need to downsize to a smaller home that are always worth remembering.
Downsizing Your Home: What You Need to Know
By far, the most important thing to remember when moving into a smaller space is that you should begin by making a list of all those personal belongings and other items that you don't really need anymore. You should do this before you start to pack, as it can save you a tremendous amount of effort in the long run. Take an inventory of your items and try to separate anything out that you truly know you don't need. If you were a collector who no longer has a passion for what was your former favorite hobby, consider getting rid of those items. If you have four television sets but know that you're only going to need two at your new place, sell them before you have to move to make the process go as smoothly as possible.
Along the same lines, you should also use apps to sell your stuff. Obviously, there is always eBay - you can list virtually anything you want at a certain price and let people bid on it until it sells. But there are also options like the Facebook Marketplace or Nextdoor that allow you to listen items that will be visible to people who are in your immediate geographic area. This can potentially be a great way to not only sell items, but to do so without needing to ship them because you can have buyers come pick them up by way of a "Local Pickup Only" option.
At the same time, you should also start cleaning out your wardrobe for any items that you don't wear anymore. More than anything, you want to try to visualize the new space that you're moving into and how your new items might fit into it. If you have a particular type of bed, for example, walk into your new bedroom and try to envision where it may best be positioned. Do the same with other furniture that you have to try to create a mental image ahead of time of where those items may best be located. This, too, will save you a lot of trouble during the move itself. Just because you don't like a particular shirt anymore doesn't mean that someone else won't, after all.
Maximizing the Space in a Small House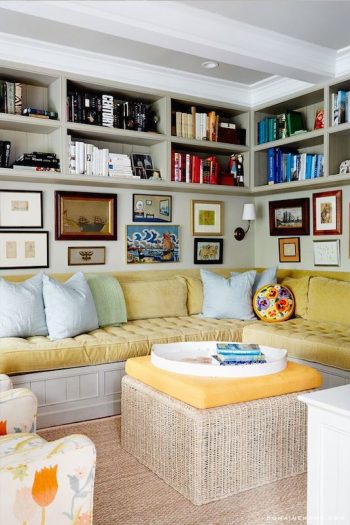 Once you actually move into your new home, you'll probably find that a bit of an adjustment period is necessary. After all, you're used to a certain amount of space and those immediate days and even weeks after the move can begin to feel a little cramped. Thankfully, there are a number of techniques that you can use to maximize the space in a smaller home - chief among them being the installation of wall mounted storage. Many big box furniture stores offer wall mounted storage and you can also likely find custom solutions in your area. The benefit here is that you still get all of the space made available by shelves and cabinets, but you're not taking up any additional floor space, either. This in and of itself is a great way to take an admittedly small room and make it feel as big as possible.
At the same time, you should also consider opportunities to increase storage space in your kitchen. People often don't realize just how many kitchen utensils and other items that they have until it comes time to try to find a place for them. Whether this means installing new storage or coming up with a more inventive solution will obviously vary depending on the situation - but this is definitely one of those areas that you should focus a lot of your attention on.
You can also consider shopping for multi-functional furniture - meaning those pieces that serve more than one purpose. A couch doesn't just have to be a couch - it can also fold out into a bed to give people a place to sleep when they come visit. Oftentimes you can find an ottoman for the living room that acts both as that and as a convenient storage location for remote controls, gaming consoles and similar items. Downsizing can change your life for the better. It can help you free yourself from clutter and save money as well. Overall, if you have the opportunity to do so it's a good idea - and tips like those outlined above will certainly help.
Love,
Kartik