Reading Time : 3 minutes
In today's day and age if you don't have a presence on social media you almost aren't in business. Both current and potential customers want to feel connected to the brands and individuals they do business with - what better way to foster community than social media?
Promoting positive engagement is a must for a successful social media marketing strategy as a Realtor. Here are a few best practices to bear in mind:
Do's of Social Media Posting
1. Try to combine posts and content across multiple platforms
Because of the sheer volume of social media posts, you will get lost in the noise of these platforms if you aren't aggressive in your approach. Post often and recycle your posts across many social media platforms. You don't need to be selective with the social media platforms you join - the goal is to be omnipresent.
Because busy real estate agents can't always come up with content daily, consider scheduling a "content day" to write, film and edit a bunch of posts all at one time to be released over the next week or so.
A recent study done by the National Association of Realtors (NAR) found that 97% of Realtors chose Facebook as their preferred network. Facebook was followed by LinkedIn (59%), and Instagram (39%). Roughly one-third choose Twitter.
The lesson really is that content can be recycled and reposted over many platforms to get the widest reach possible.
I understand that your focus now is probably passing the real estate exam but planning out your content strategy while you are in real estate school is a good way to spend your time while also prepping for your exam.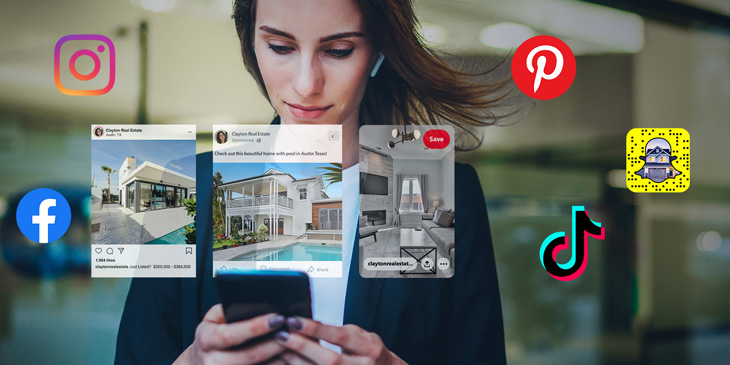 2. Be active
There have been many studies about when and how often you should be putting content out there. Consider posting daily on at least one platform but be careful to not overly focus on self-promotion. Make sure that your content is relatable, and [as a Realtor] concentrate on being part of the online community on which you are posting.
Share posts, make comments, ask thoughtful questions, and give shoutouts to connections. Bottom line, be consistent in terms of activity and be responsive to others.
3. Use visibility strategies
When posting or sharing others' posts, be sure to use visibility strategies to gain traction. Good methods include using keywords with hashtags and tagging others in your network to give them call-outs.
Don'ts of real estate social media posting
Just one blunder can soil your professional standing, but a series of bad practices can really hurt your reputation if not careful. Here are the top don'ts when it comes to social media marketing for real estate agents.
1. Don't be overly promotional
This is #1 on the list of things NOT to do. Don't try to oversell on your page, but use social media to share interesting news, customer interests, how-to's, or relatable and interesting aspects of your personal life. By using your page strictly as a personal listing mechanism, people will disconnect from you or scroll through your posts without even looking. Always follow the 80/20 rule when using social media.
2. Use your own photos
Photos are a critical aspect of promoting properties. Ideally, you want to use your own photos to highlight listings you promote. (20% of your posts!) If using others' photos, be sure to first ask permission first and then publicly give credit to the photo's owner.
3. Don't post nonsense just to "post"
The trick to social media marketing success is balance. You need to find the "Goldilocks" level of posting. In other words, don't post so frequently it becomes "noise", or worse, social media's version of unsolicited robocalls. Then again, you don't want to post so infrequently that you become irrelevant. Focus on timely, thoughtful, and interesting posts, spread out. Determine what your audience likes and deliver it.
Savvy real estate agents know how to skillfully use social media to gain the trust of potential clients and maintain strong relationships with existing ones. Focus on good social media practices, avoid bad ones, and you'll create a standout online presence.
Love,
Kartik