Reading Time : 4 minutes
The basic goal of having a professional presence on social media is to increase your visibility among prospective clients. Your goal should be to establish trust and a professional persona, "friends" and "likes" are a by-product of your content but should not be the goal.
I'm going to go through the various platforms in this article and explain how they can be used to obtain business. If you're wondering what to post online, I wrote an article about this here that might be of interest to you.
You should strive to develop and maintain a social media presence that is diverse and steady and demonstrates to the public that you are knowledgeable and competent and likable.
Does that sound like a tall order? It does not have to be. It doesn't have to take much time each week, but your activity on the various platforms should be coordinated and deliberate. You don't have to be a professional writer, nor an accomplished photographer, but you should strive for personable and authentic posts.
The Giants of Social Media
The big four social media platforms are Facebook, Instagram, Twitter and LinkedIn with TikTok quickly accelerating and hoping to catch up to the established players. This will change over time, however. If you read old articles on the business of social media you'll see references to Flickr, Myspace and even Friendster so I know that this article isn't going to age well - but that's kind of the point. Being able to bob and weave and pivot to where the puck is "going to be" will help you stay fresh and relevant as a business person.
You really have to be fine with trying different approaches on all platforms. Some real estate agents find YouTube to be highly effective, while others migrate in the direction of short form TikTok videos or more graphic social media sites like Pinterest.
Facebook
With more than 2.7 billion users worldwide, Facebook could be seen as the anchor of your social media presence. Although it may not be the younger generation's favorite, your real estate clientele is likely to be among its users so embrace it.
There is a debate around the ratio of personal posts compared to business ones. A best practice here would be to try all sorts of things until you find a rhythm that works for you and your audience.
We would love to get you know you on Facebook! Connect with us here.
Instagram
Instagram is a quick and effective way to share photos and video content with your followers. With 1.2 billion monthly active users, it is another indispensable way to reach potential clients and boost your following. Another advantage is that, because of its affiliation with Facebook, each Instagram post can be shared on Facebook, and vice versa making posting to both platforms seamless.
Don't forget that Instagram has cool buttons like "vote", "quiz", and question/answer type buttons. These interactive features allow you to get to know your audience and also provides insight into what your followers like. If you are interested in connecting with our real estate school on Instagram we would love to connect!
Twitter
Tweets are short (they have been increased to 280 characters from their former 140) and short-lived, and the platform is instantaneous in a way all its own. It doesn't take much time to get the hang of it, and it can gain you a following fairly quickly as a knowledgeable real estate professional when used correctly. It's an ideal way to share information -- such as a daily change in the interest rate, an interesting new listing, or a price reduction -- with your followers.
LinkedIn
Microsoft purchased this business-oriented social media platform and its influence among professionals cannot be underestimated. LinkedIn also gained importance during the pandemic as the platform for B2B interaction. Be sure your personal profile is complete and that you use a professional photo for your headshot. Regular posts and interaction with other professionals is beneficial.
LinkedIn can also be used to gain referrals for your real estate business from out of area agents. Every referral received by a real estate agent can be worth $10,000+ so being recognized as the go-to agent in your area can be very valuable.
If you are one of our real estate school students, there's nothing wrong with you posting right now that you are enrolled in our real estate classes online on your LinkedIn so that your audience knows that you are going to be a future real estate agent.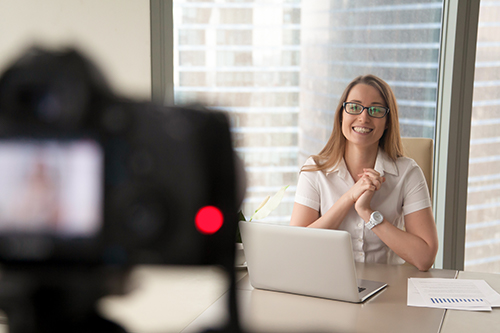 Develop a Posting Calendar
Develop a social media schedule. Aim for a minimum of two or three social media posts each week on each platform in the beginning and share links between platforms when appropriate. Send a tweet to point followers to a Facebook post, for instance, or share an Instagram photo automatically to your Facebook page. Write a short article for LinkedIn and post a short sentence and a link on Facebook. Use Twitter to tell your followers that a specific home you listed just closed, that the price on a specific property was lowered, or that interest rates are slated to rise next week, according to the latest financial news.
Encourage interaction, try your level best to respond to comments, and thank your followers for their support. Introduce a new buyer to the community by posting a photo of them at their new front door (with their permission, of course). Lend your support to a community event or don't be shy to promote your latest achievement to your audience. Share a humorous story or post a cute "puppy" picture just for the fun of it. Just make sure your posts are believable, accurate and in good taste. And have fun with social media.
When done properly you'll reap the reward through increased business.
If you are interested in getting started in real estate courses, click here or reach out by phone at 888-768-5285 or @ us! :)
Love,
Kartik